A series of glimpses /

l'encre sympathique
solo performance in theatre,
Maison de la Culture N.D.G., Montreal.
This performance accompanied my exhibition Walking in Russia. As the audience entered the theatre I was seated on the floor repetitively peeling beets. The piece incorporated other "glimpses" such as covering myself with a large paper programme, drawing live (using an overhead projector), crawling though the audience, putting on paper shoes (taken from the installation which consisted primarily of 200 handmade paper shoes), rolling beets across the floor, etc. Vocal improvisation was also an integral part of the performance. Both the performance and the installation were inspired by a coincidence: I had a dream that I returned to my family's original name (Sapozhnik, meaning shoemaker in Russian), and the next morning I found a collection of shoemaker's tools at a flea market. The work reflected on origins and questioned whether it is possible to feel a sense of nostalgia for a place you've never even been to.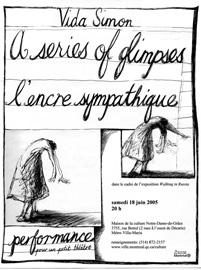 poster for A series of glimpses /
l'encre sympathique